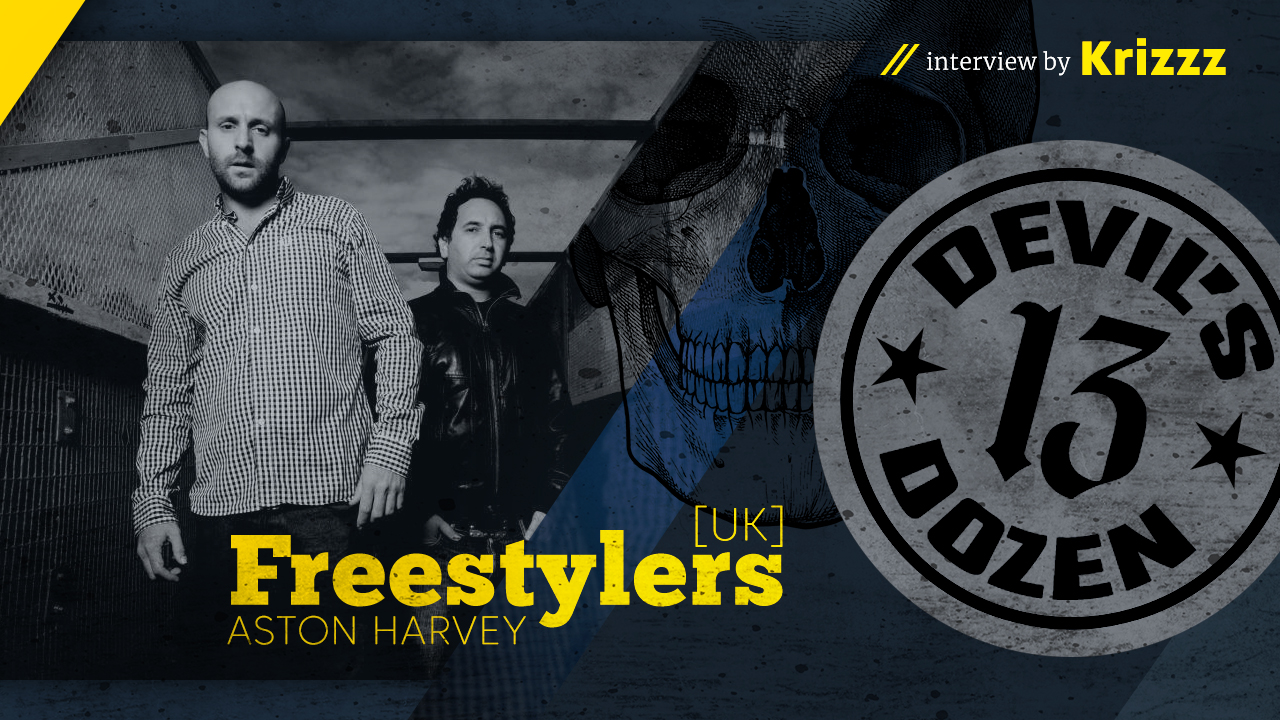 Krizzz: Hi Aston. Thank you for your time. I prepared a few questions, but first of all i want to express my gratitude for the great contribution to the breakbeat culture. Your tracks are still rockin', many of them i often hear on the dance floors and play by myself. By the way, we met with you on stage several times. It was at 'kazantip', 'in beat we trust' and 'we are the breaks'. So now it is very pleasing to interview you.
Let's turn to my questions.
01. I would not be surprised if people forgot about this, so i i'll ask again. What was the secret meaning of the project. Writing your favorite music and promoting breakdance culture — those are the things we all understand. Maybe you wanted to bring up something to people, some 'hidden message'? For example, attracting people to a healthy lifestyle?
- Aston [Freestylers]: I've always made music that incorporates the music that inspired me to want to make music being a combination old school hip hop, funk, house and dub reggae . There was no secret meeting or master plan,we  just wanted to make music that was fun and put a spin on our musical inspiration. The only thing i've heard of regarding a healthy lifestyle, is people to like to work out in the gym or go running to our music as it has that energy to keep you pumping away. Haha
02. The first album is very different from the second and all the subsequent ones. I wonder who's your target audience for now? If 'We Rock Hard' is in the b-boys gold collection, then 'Raw as Fuck' is more focused on live shows? What's the current focus on?
- Aston [Freestylers]: We always like to try something new, move with times but still go back to our roots so there's a sound signiture in there somewhere. We rock hard was definitely a blueprint to my musical background as a kid growning up and being obsessed by these magical sounds. I wanted to make magic but my own interperation of it. The current focus is trying to go back to our roots but still have a modern twist, the new sound of the school is what i like to say.
03. I noticed From your instagram that you began to give concerts again. I'm very happy about that. How does the new public react to the old school?
- Aston [Freestylers]: We've been constantly touring so that's nothing new. Performing as the Freestylers live band is quite an expensive endevour but we hope to do a lot more as it's a great show and one day bring it to Russia.
04. What do you like to do more: to risk and look for a new sound or to adapt old school for fresh listeners?
- Aston [Freestylers]: I don't mind doing both. I guess i have my own way of arranging and putting the tracks together. Creating new sounds is good though as you're trying to be a musical leader rather than a follower.
05. Do you feel yourself more like a free musicians or there is some pressure, that modern electronic stage causes? I mean, sometimes musicians are forced to write music, heavily depending on trends so to be 'in the flow', but that counts as a 'bad move' by fans who are digging into the initial style of your music.
- Aston [Freestylers]: I've never followed trends, i just go with the flow as i like making so many different styles of music. It's a great chalange and sometimes you can bounce off the vibes to create some cross pollination of madness … I believe it's always important to have your own signiture sound, this is what will make you different and stick out amongst the crowd.
06. What is your favorite label? Can you give a few examples, if there's more than one.
- Aston [Freestylers]: I like different labels for various styles of music. Back  in the day with would be Deaf Jam, Pop Art, Luke Skywalker, Idlers Acid Traxx, Xl, Blapps, Trojan, Greensleves, ttrickly rhythmn now it's Ram, Bingo Beats, Mamas Pie, Punks, Night Bass, Jungle Cakes, Congo Natty, Breakbeat Kaos, Skint, Finger Lickin to name a few.
07. I conducted a small survey among my friends and colleagues. I was surprised that there was not a single coincidence. People love 'ruffneck', 'boom blast', 'broadcast channel', 'jump and twist', 'don`t stop', 'pocketful of sadness', 'freestyle noise', 'painkiller', 'warrior charge', 'could i be dreaming'. My favorite tracks are 'no replica' (i still play it a lot), and 'dogs and sledges' — i always leave this one for the end of my set. I also digging into 'security' and 'hard to stay'! The question is, what are your favorite tracks (self-written ones and from another musicians)?
- Aston [Freestylers]: As far as Freestylers i love «The Slammer» as it was my interpreation of a drum and bass tune done in a breakbeat format with out it sounding like a weird sounding slow d&b record. There was a track called "All for the nothing" on our «Coming Storm» album which sounds like and epic Led Zeppelin tune. There's too many favourite tunes to say what are my favourite tracks but for now i'd say anything by Public Enemy, The Beastie Boys, KRS-One and The Prodigy.
08. It is very interesting to learn the history of the track 'dogs and sledges'. Thanks to Freestylers, i had a chance to meet Million Dan — he is incredibly cool :d. Please tell us how the track workflow went.
 - Aston [Freestylers]:  Well around 2002 I was in the studio, I cut up some stabs and made a beat which was gathering dust until Million Dan heard it around a year later or so and came up with the rap. I'd been wanting to work with Million for ages and we was great to eventually write something with him. We also make «No Replica» and «Boomblast» that is still to this day a massive tune.
 09. At a personal meeting, I will definitely ask you a question about food, favorite color and something similar, but still, how often do you hear the phrase ìfreestylers are not the same as they were before…î please treat this issue with humor :p
  - Aston [Freestylers]:  Not that often really. The only time was when we tried to change up our sound a bit on the «Coming Storm» album but that didn't last very long as i decided to go back to basics with our sound after that adventure. As a producer/artist it's always good to push your creative boundry, sometimes it works and sometimes it doesn't.
10. Is there any upcoming albums to wait for? How do you picture it, what it will sound like?
- Aston [Freestylers]:  Not sure if there'll be anymore freestylers new albums but singles, yes as we have lot in the pipeline. Have been making lots of jungle these days too either with Deekline or by myself plus we have the pirate jams project which is inspired by 90's house and rave. If we were going to make an album i'd like to go back to our original big beat sound though.
11. With a certain periodicity, you come to perform in Russia. What are your impressions about this country? What do you remember most?
- Aston [Freestylers]: Wish I could come every weekend to Russia. You have great crowds, people  are so friendly and such crazy music lovers. Good vodka too, haha
12. Do you watch out any artists or musical trends in nowadays? Can you highlight someone or something?
- Aston [Freestylers]:  I try and stay away from trends and do my own thing otherwise you start veering away from your unique sound. It's good to be up to date with what is new though.
13. What helps you not to lose the craving for writing music today?
- Aston [Freestylers]: I still have the same drive and ambition to make music as to when i started nearly 30 years ago. I just love the creative challenge of putting the musical jigaw puzzle together.
Few words for fans of true breakbeat/big beat culture! Some wishes for them.
 - Aston [Freestylers]: Thanks for the amazing gigs I've played so far and can't wait to get back to Russia asap. Have to big up Lady Waks for being such a pioneer in the sсene, so it's thanks to her really you have to say that she keeps the vibes going.