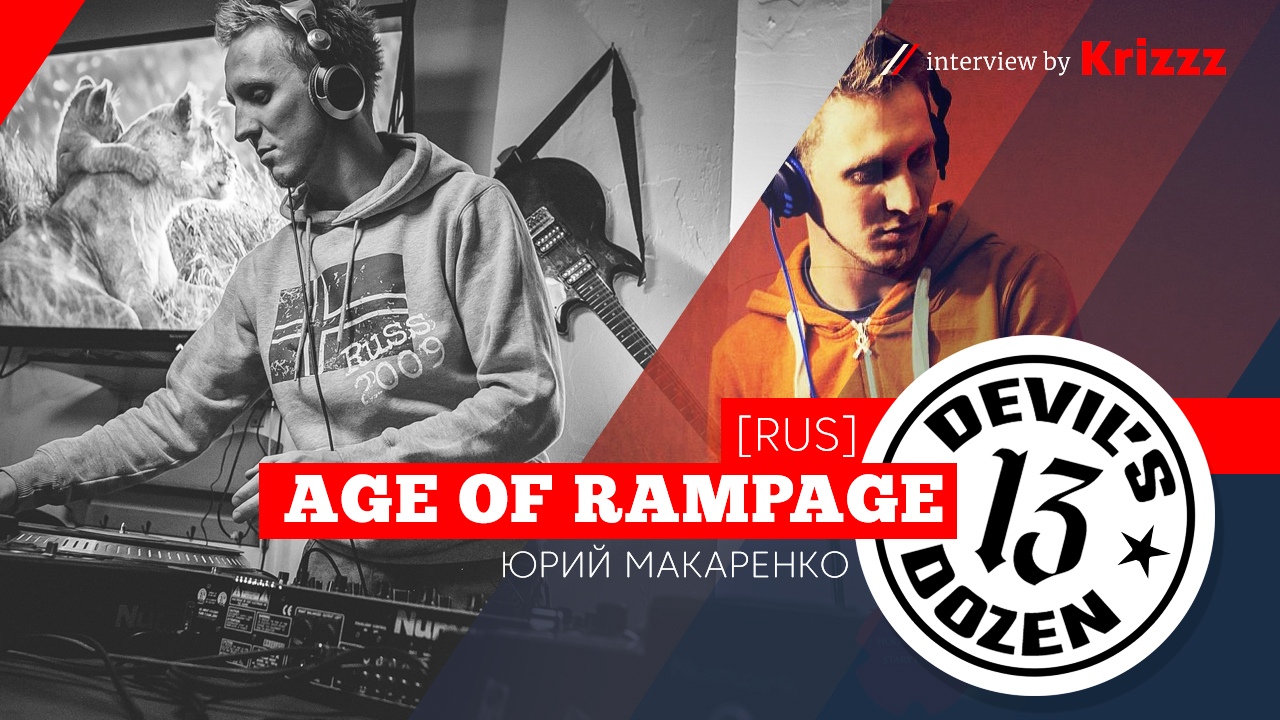 Yuri, a.k.a. Age of Rampage, is an adherent of the old school in every sense, but despite the traditional style, he pays attention to the sound, corresponding to modern trends. He started writing music in 1997, and chose breakbeat as the main genre. In 2014, he became a resident of a record label specializing in BreakBeat and Big Beat music — Criminal Tribe Records. In 2016 he became the winner of a competition, which was organized by legendary breakbeat group, THE PRODIGY, and on November 9, he played as supporting act for their concert at the Bud Arena in Moscow. Artists who influenced Age Of Rampage: The KLF, The Crystal Method, 2 Bad Mice, The Criminal Minds, Rom Di Prisco, Altern8, Hardknox, Goon, Junkie XL, The CJ Bolland, Lunatic Calm, The Chemical Brothers, Empirion , Dub Pistols, The Prodigy, Omar Santana.
Krizzz: Hi Yuri. Thanks for taking the time for our interview. The topic of conversation is the project Age of Rampage! With great pleasure on behalf of the Criminal Tribe Records and all fans of Big Beat / Breakbeat culture I want to congratulate you on the release of the debut album 'Empire City'. Your listeners have been waiting for this release for a long time. This is a great event for all of us! After listening to it, my first thought was — this is a real album, with it's true style and coherence, the sound is massive! Even through all the noisy and heavy concept, your Big Beat sounds clean and powerful. Thank you for your creativity and for your loyalty to yourself! This is a cool album! I now turn to some questions.
01. Let's talk about your "Empire City" LP! How long have you been writing the album?
- Yuri [Age of Rampage]: If you take the total time spent on the creation of an album, then in the end it's not that long, probably about a year. As for when it was supposed to come out, initially and the promised date, then quite a lot of time passed, I think about 2 years for sure.
'… music, is really born in the head, but not without the help of the outside world!'
02. Did other musicians, producers, performers take part in the album?
- Yuri [Age of Rampage]: Undoubtedly! Initially, one old friend took part in the track 'Empire City' under the pseudonym 'St. Winstons'. The intro of this track was originally written by him. He also participated in the composition, '3 Nitro'. Julia Marks participated in the track, 'The Tribe', which is also the anthem of the label 'Criminal Tribe Records'. It was her voice that was heard in the recording. There is also a joint track with 'Urban Kid', this is the person with whom the project 'Age Of Rampage' was originally created.
'… i definitely can not do something from the stick'
03. Your style has stayed mostly the same since your early works, for example 'Adrenaline EP (2014)', but some experiments are felt in Empire City LP. This can be heard in the track 'Groove Street'. What new style did you bring?
- Yuri [Age of Rampage]: Hah! I personally do not think that I could bring anything new to the genre at all. I just used my skills and approach some tracks as an artist who writes in different directions. Specifically in some places there is the influence of my 'Drum & Bass' alter ego. ;)
04. On what have you spent more of your strength, the concept or mastering your works?
- Yuri [Age of Rampage]: This is a good question. Very often, an idea is born rather quickly and creation does not drag out. Although sometimes it happens the other way around as well. Almost every artist, more often than not, is not satisfied with the sound of his compositions. And then it begins … You create 250 copies of a project, you do much worse, you return to where you started and pick everything again … In the case of my album "Empire City", it turned out that my time was evenly spent.
'…i was often inspired by people who did not themselves suspect'
05. Music itself is born in your head? Is is easy to implement the idea of tracks?
- Yuri [Age of Rampage]: As I wrote above, the idea is sometimes easy to implement, and sometimes you lose a lot of time with what is in your head, but you can't transfer it to the speakers … Yes, it really is born in your head, however, not without the help of the world. For example, the sounds of cars passing by a window sometimes create the right mood, inspire and give ideas even … This is just one example, so much is affected.
' Motion Drive 'is a composition written by me under the influence of some memories from my childhood'
06. What inspired you when the creative process hit a block?
- Yuri [Age of Rampage]: Often I was inspired by people who themselves did not know it. Also, it was not the pressure that motivated me, but, on the contrary, a certain freedom of action, it's not easy to explain. In general, I just can not do something out of fear of the cane! ;))
07. The tracks, "Subway Funk" and "Groove Street" were remixed by Criminal Tribe artists, "Interra" and "Little Orange". What individual characteristics can you mention about these two works?
- Yuri [Age of Rampage]: A good question!)) 'Individual features', sounds like you are speaking of some kind of organism)))). I can say that 'Groove Street' from 'Little Orange', has become more adapted to the listener's ears, since the original is quite experimental. The sound has become driving and fast! It pleased me, my mood changed, I became more cheerful or something)). As for the "Subway Funk" remix from "Interra", the atmosphere caught my attention very much. It became, not danceable in the modern understanding of music, however a pleasant musical component appeared in it; in the spirit of "Dub Pistols". This is very cool!
08. I really like the following tracks: Skydive, Orange Trip, Q2DM1 and EP Adrenaline. What are your favorite tracks from the album and why?
- Yuri [Age of Rampage]: You know, there is such a thing that it is difficult to love your own music sometimes … Not only that in the process of creation, you already rub your compositions to the holes, so there is also quite high self-criticism. Therefore it is difficult to say that «I like it» but I am rather satisfied with certain works. From the album I can single out: 'Motion Drive', it is a composition written by me under the influence of some memories from my childhood; when I lived in Estonia. These are definitely warm memories, but at the same time sadness is present there. 'Subway Funk', due to the fact that it was written with a light hand, and I also had the idea to write just such a groove, that in this case, it turned out exactly what I wanted! 'Groove Street', well, there was just a little experimenting for me, and it seems to me that it was a success. 'Leaving Town' — a track written with my friend 'Urban Kid', everything is simple, in fact, he conveyed the main mood of the track when he sent me a demo. I immediately knew what to do with it. I think, it turned out quite atmospheric.
'i write, then what i miss.'
09. What was the meaning of the album? What kind of emotions do you want people to experience? Is this a way of expressing yourself or a desire to leave behind a mark in the history of the music industry?
- Yuri [Age of Rampage]: The meaning would probably be a concept album, that each track, one way or another, tells a story related to a big city (Megapolis). I think, in regard to the emotions, the listeners themselves decide what to experience, because each of us perceives music in their own way. On the same composition, one person hears sadness and another joy in it. Of course, this is always a way of self-expression, because music is my life! As for the trace in history, globally I will not leave a mark. This is not that kind of music genre, this is not pop, not mainstream! Let's be honest, Big Beat is a specific music that is suitable for movies, games and advertising soundtracks. It never went to the masses, like, say, techno, house, or other breakbeat genres like drum and bass or breaks. I just like it, I write, that's what I enjoy!
'… the listeners themselves decide what to experience …'
10. What concept of art do you relate to: art as pleasure; as a way of life; as an educator of people or something else?
- Yuri [Age of Rampage]: Rather, as a way of life, but that is too strange a question, because, in one way or another, I carry some information to the masses and educating some listeners. As for pleasure, well, it always gives pleasure, especially when it turns out exactly as you planned.
11. How do you understand what freedom is? What is freedom for you?
- Yuri [Age of Rampage]: Great, this is what we have come to …))). Many people mean freedom as something directly related to being alone, however, for me it is not so! I think freedom for me is to create and get pleasure from it. Well, the main thing is a sense of calm that, I think, can be attributed to freedom;)
'music is my life'
12. Did you learn something new for yourself during the creative process?
- Yuri [Age of Rampage]: Each new composition, one way or another, teaches you something. You learn something all the time. It's such a process, you always try something new, even in such a genre.
13. What do you want to say to listeners, and also what to musicians?
- Yuri [Age of Rampage]: The most important thing for those and for others is not to change yourself! Listen to the right music, be yourself, otherwise, not so long, you will be alone!
Thank you very much for the opportunity and for giving me your personal time!
Kristina 'Krizzz'