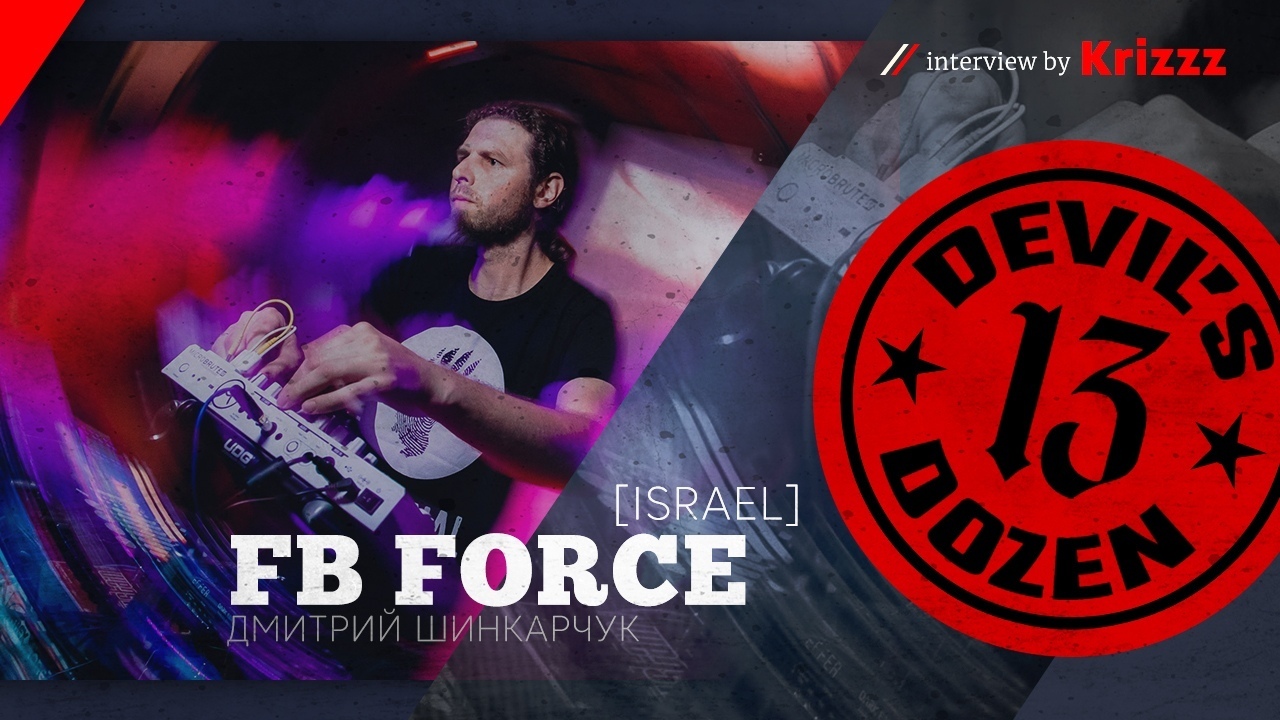 Krizzz: Hi, Dima. Thank you for your time. Let me ask you some questions that interest me regarding your new album!
01. Please tell me how the project FB Force was born. What year did your project start? There are some other members included in FB Force, what are their roles and how did you meet them? I know that not all participants live with you in Israel, is it easy for you to interact at a distance?
- Dmitry [FBForce]: Hi! The project was born in the early 00s. From that time, I mastered various audio software, and tried myself in various musical genres. I wanted to cover everything, a little bit, and all at once! Initially, the project included two people, this was myself and Mifnar — my school friend. I mainly wrote the music, and Mifnar filled it's philosophical, textual side and was, so to say, a critic of the quality of the material, heh! For the entire existence of FB Force, perhaps, he was the only one to write most of the lyrics to my tracks. In the period from 2008–2013, Mishroom, the guitarist joined me. By that moment I had accumulated material for an entire album and together with Misha we were finalizing it and were simultaneously giving concerts in Israel. Our joint album called Alpha Omega was released in 2015. After that, I continued to work independently and released a number of EPs on Criminal Tribe Records. I was always interested in working with different musicians, I always scooped new ideas from them and when I had a creative connection with one of them — I would invite that person to participate in my track. Thus very unusual and interesting experiments were made, and the distance never was an issue for collaborations for me. I am a studio musician and therefore, I just need to work in the adaptation mode of what is, and not necessarily jamming a lot, to get the desired result. I usually have ideas in my head and it remains only to bring them to the artist with whom we cooperate!
02. Have you dreamed of being a musician since childhood?
- Dmitry [FBForce]: No, but I always loved music, there was cool equipment at home and I was constantly stuck up with headphones at the player, wiping my father's home collection to the holes.
03. By the way, speaking of childhood, what kind of music did you listen to at school? What are your favorite artists that you still love to play?
- Dmitry [FBForce]: At school, in the 8th grade, I really got into music and it's different styles! For me, at that time, my favorites were: The Prodigy, as well as Iron Maiden and Metallica. I went around to all the shops and bought all the tapes they had with these bands and rubbed these tapes daily to holes. The internet was not so easy, but still I could find new performers I really enjoyed with a fast broken rhythm. It was jungle, drum & bass and of course breakbeat.
Favorite artists from electronics — LTJ Bukem, Dieselboy, Omni Trio, Teebee, Freestylers, Adam Freeland, The Prodigy, Genaside II, Anthony Rother, Ulver, Massive Attack.
From metal performers — Iced Earth, Amon Amarth, Suffocation, Dying Fetus, Nile, Therion, Nevernore.
04. You are a cool live performer. Has there ever been an idea, for the whole band, to play a cover of one of songs that you love?
- Dmitry [FBForce]: Thank you! Yes, there was an idea, with the band, to make a live cover of The Prodigy — Serial Thrilla
05. You all look very colorful and cool on stage! Would you like to bring a rock and roll element to your performance, such as with fireworks and frantic frontpeople? Ha ha ha!
- Dmitry [FBForce]: Of course, as soon as the organization allows it, we will definitely gather such a show, I am definitely for rock and roll!
06. I really liked your whole album, Becoming Bionic, this is what the listeners have lacked for many years! I want to highlight the tracks that have sunk into my soul: "The Underwold", I liked this track because it reminded me of one of my favorite projects, Hardknox. Also, 'Human Barcode', 'Two Faced Reality', 'Web of Lies' stood out to me. I understand that during the recording process, you have to hear songs many times and most likely have heard enough of them, but still I want to ask, what are your favorite tracks? How did the names come up?
- Dmitry [FBForce]: Yes, I have heard them before they are complete while searching for the final sound. This is my usual process: I scribble down a demo, and then I listen to it all day on repeat. First being impressed overall and secondly falling in love with different elements. Then I sit down and I try to complete the track right then, to try get the big picture. After this, I can listen to the track for a week in a row until I let it go. I usually don't show demo tracks to anyone, I've learned to criticize myself and I do it pretty hard! It's hard to single out one favourite, since I put a piece of myself in each track, but perhaps on this album it was Human Barcode. This track was a surprise for me, almost the entire track is like a scene from my dreams, and I am extremely happy about this surprise!
07. I want to mention the stunning vocals. Tell me who are all these people? Where are they from? How did you find them?
- Dmitry [FBForce]: Oh, some I knew forever and some have been a fresh discovery for me! For example, with Ido and Gella, we have been working together for a long time and know each other very well. Anna and DeKay are new characters, with whom I made acquaintance literally over the past year, and for that, I am extremely happy. It has opened new boundaries of my sound and I am sure that we will not stop!
08. Are you planning a tour?
- Dmitry [FBForce]: Yes, I am now starting the preparation of the live program, and I think that we will begin by March!
09. Please share your feelings on the work. Tell me honestly, are you completely satisfied with the album?
- Dmitry [FBForce]: With each new release, with new creation, it seems that this is your peak and that this is the best that you have written up to this point! But after a while you realize that you should sit down and continue, because the fountain of musical ideas is endless!
10. Do your parents like your creativity?
- Dmitry [FBForce]: Not in my case …
11. I think your album is ahead of it's time in terms of sound quality, but what do you think yourself?
- Dmitry [FBForce]: I have already gone further, and now, looking back at the album, I want to redo everything, haha. It's hard for me to say what era it belongs to, since I never follow modern trends. I just create as I go along, but it is nice to hear that the album is ahead of its time!
12. What musicians do you want to work with in the future?
- Dmitry [FBForce]: Burton C Bell, vocalist of Fear Factory. I think we would compose a great track with him!
13. How do you see or want to see the development of Criminal Tribe Records. Do you have any favorites in the team?
- Dmitry [FBForce]: I want the label to start appearing at international festivals and to get to the States. I am sure that our music would be liked by many. I am very close in spirit to what: D Bruce, Age of Rampage and the brilliant musical selections from Krizzz and Floyd the Barber write!
Any final words and wishes for fans of this Breakbeat / Big Beat culture?
- Dmitry [FBForce]: Thank you for the interview. I wish the culture great success in the future, because the fact that the album "Becoming Bionic" was sold throughout the Russian Federation in a day is a super-victory! Thank you very much for your interest and insightful questions!
Thank you very much for the opportunity and for giving me your personal time!
Kristina 'Krizzz'