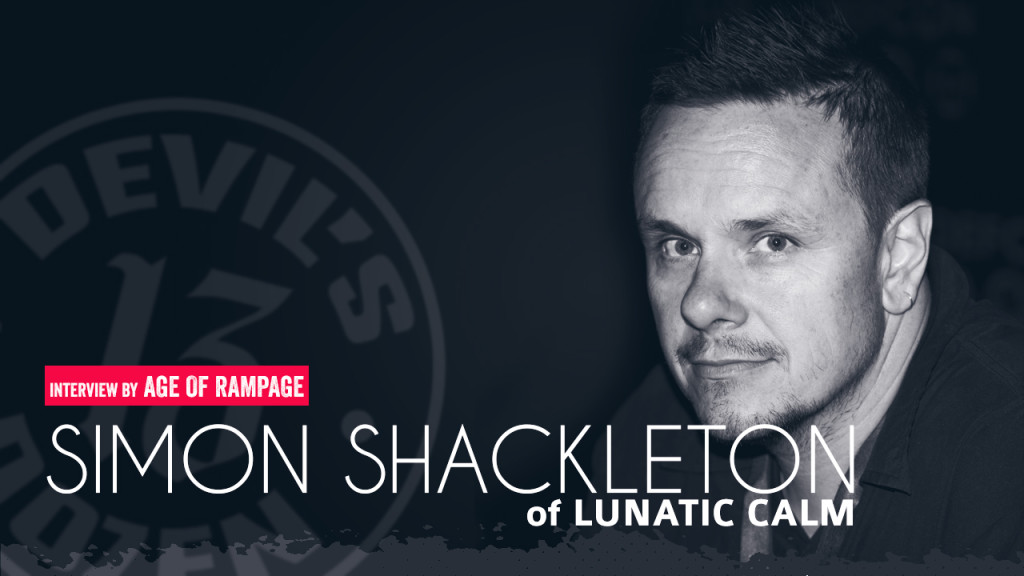 Age Of Rampage: Hi Simon Shackleton, I'm wildly excited for this interview opportunity, as well as our team and all the fans of true Big Beat / Breakbeat music. I want to express gratitude for your decision for going forward and answering a bunch of questions on a par with special thanks for being supportive regarding our team.
I think for a new, younger generation of Breakbeat / Big Beat music fans it will be interesting to get introduced to your personality as an artist and learn as much as possible about you.
I will try to not get into VERY frequently asked questions, but the probability of asking some, clearly, can not be avoided. So, lets start.
01. It may sound like a trivial question, but where does the name «Lunatic Calm» comes from?
- Simon LC: Well, it's not particularly exciting, but we wanted a two-word name for the band and were looking for something that was a juxtaposition of two extremes. Lunatic Calm seemed to sum up the music we were making pretty well.
02. Why, representing yourself as Elite Force and having a label, you don't publish your music as a «Lunatic Calm» project?
- Simon LC: Because Lunatic Calm was a joint project with Howie Saunders, and at the time I had way more ideas than we could possibly accommodate as LC. Also I was DJ'ing a lot at the time and wanted my own offshoot projects that were more focused on the dance floor, so Elite Force was a good avenue for the more club-orientated ideas.
03. How often you was compared to the notorious «The Prodigy»? What was your reaction on that? :D
- Simon LC: I think those comparisons happened because of Leave You Far Behind really. There was a real punk attitude to that song, but if you listen to Metropol as an album, that sound wasn't really indicative of where we were coming from as a band. Albums were really important to us as they gave us a chance to explore the full range of our interests. I kind of liked The Prodigy when they released Fat of the Land, but nothing they did before or since that really interested me all that much, so the comparisons didn't really make much sense to me .. but then you don't get to have a say in how people perceive your music, so it is what it is.
04. If the Lunatic Calm project came back, what genre would this project be playing in? Industrial or still Bigbeat/Breakbeat?
- Simon LC: I have no idea at all really. I'm not sure the music that we made back then belonged on any one genre — it certainly wasn't our intention to make genre-specific music.
05. Why we hear about Elite Force (sHack), but there is almost no info about second member of the band — Howie?
- Simon LC: Because he went on to make music that wasn't really in the public eye. He continues to be very successful in creating music for commercial use, but that's not something you really hear about.
06. How do you think, is it possible for BigBeat to get back on the 'main stage'? Can it be adapted for the dancefloors?
- Simon LC: Of course it's possible to see that style return to the 'main stage' as you put it as it seemed to unite a lot of people with differing tastes, but I think that's a long long way off happening. Bigbeat feels pretty dated as a genre really and I don't hear many examples of people making it these days ' nor do I see that changing anytime soon.
07. How do you feel about the stuff going on with modern electronic music? Like metamorphosis, a mixture of styles, when musicians returning to the old genres, but recalling it with a new name, often not justified.
- Simon LC: I dont really understand the question. There's plenty of modern electronic music I like — recently I've been listening to Jon Hopkins, Max Cooper, Vessels, Floating Points, David August, Recondite, Nils Frahm, Kiasmos, Stephan Bodzin, Bob Moses, Agoria, Weval, Acid Pauli, Pional, Dark Sky, Minilogue, Throwing Snow ' stuff like that. There's some great emotive electronic music out there that I like.
08. Why you didn't leave for the inner market just like Junkie XL did?
- Simon LC: By that do you mean a more commercial market? I think Junkie XL did a great job at expanding his audience.
09. Do you see a future for a breaks genre? How do you think, will there be any changes?
- Simon LC: Man I'm completely out of touch with the breaks genre. There have been a few interesting broken beat tracks that I've come across in the past few years but the music from the breaks people I grew up with producing alongside really don't hold any appeal for me, and haven't done for a long time. I think it has a future as long as it has audiences that follow it (Russia and Spain are the two countries that still support it in a big way), but I feel like it just took too many sounds from other genres and lost its sense of originality. If it can get that originality back with some quality productions, fresh blood and confident ideas, then yes, I'm sure it can have a bright future.
10. With whom of industrial artists would you like to cooperate today? Do you have such desire at all?
- Simon LC: None at all really. I've never been a big fan of industrial music.
11. Why you did not manage to keep the project on its own, without bothering with problems with label? For example, The Chemical Brothers have been changed, but still remain on stage to this day, just like your fellow countrymen Orbital.
- Simon LC: It's hard to explain how much of a toll record company issues take. We spent three years working on our second album, only to have the record company effectively collapse on the very week it was released. Only 500 copies ever made it out into the world, which was devastating to us. No one ever really got to hear it and we never had a chance to play any of it live. We also had no means of promoting or supporting it. The Chemical Brothers and Orbital both had big successes early in their careers and that always helps sustain you when the times are tough. We never really got off the ground in comparison.
12. Was your project commercial-aimed from the very beginning or it was an idea in your music that you wanted to reach for people?
- Simon LC: Oh it was never a commercial project at all, although we were signed to a major label who had other ideas. For us it was always about the music really, and it was only once it was written that the record company made the decisions they made on which singles to release and how best to get them out there.
13. What are your thoughts about «Goon» project? And how do you think why they ceased to exist?
- Simon LC: I've never heard of it / them!
A few words for fans of true Breakbeat/Big Beat culture! Some wishes for them.
- Simon LC: Good luck & keep on keeping on.