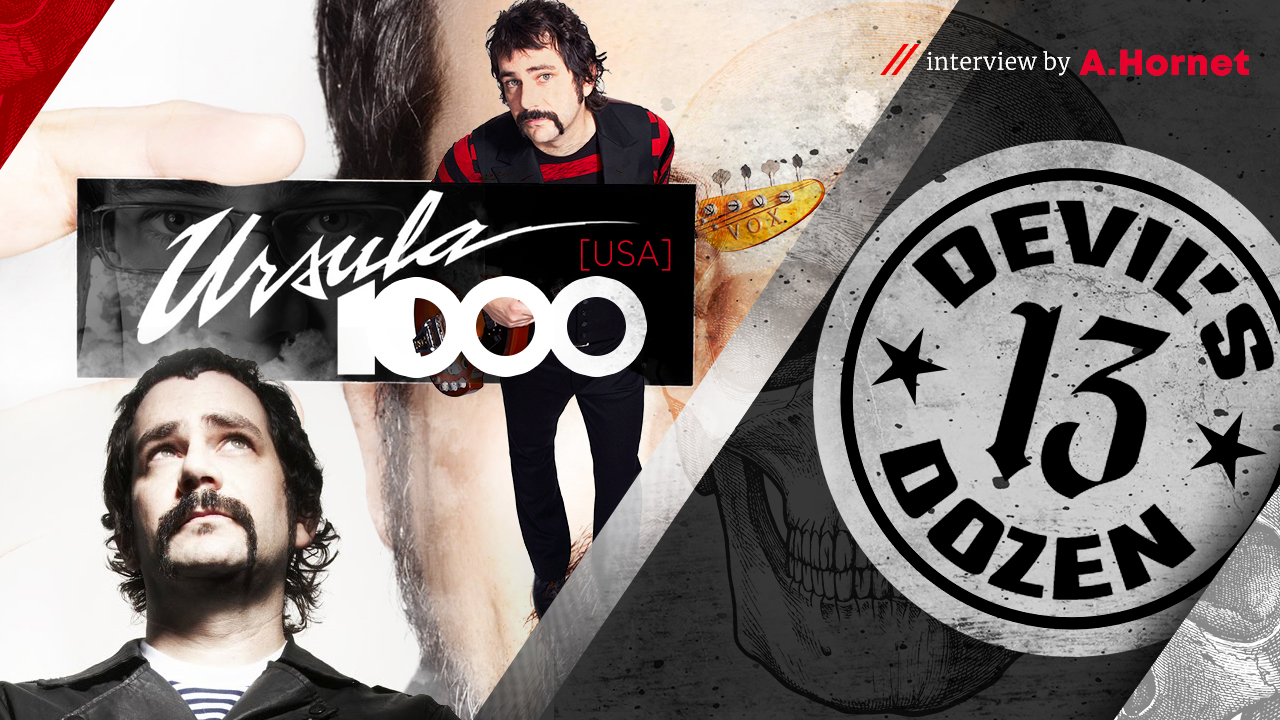 A.Hornet: Hi Alex! I'm wildly excited for this interview opportunity, as well as our team and all the fans of true Big Beat / Funk music. I want to express gratitude for your decision for going forward and answering a bunch of questions on a par with special thanks for being supportive regarding our team. I just couldn't stand before opening the project with the interviewing of you at a first place. So, let's start.
I think for a new, younger generation of Big Beat / Funk music fans it will be interesting to get introduced to your personality as an artist and learn as much as possible about you. I will try to not get into VERY frequently asked questions, but the probability of asking some, clearly, can not be avoided.
01. So … My friend, tell me, how did you come to the music, and what influenced you about going into Funk / Big Beat direction?
- Alex GO: My father's a musician so music was always in my house growing up. We listened to a variety of styles and I eventually got into New Wave and Post Punk in my teen years and later got into more electronic dance music like acid house and early breakbeat and techno. Being a drummer, I definitely gravitated to more rhythmic sounds, so when Big Beat came into style, the heavy funk samples and crazy sounds appealed to me. Plus I like the humor in it.
02. When you've realized that the music is what you want to dedicate your life to? Do you remember that times? What thoughts have brought you to such dedication?
- Alex GO: I think after releasing my first single The Very Leggy EP on 18th Street Lounge Music label and DJing outside of New York is when I decided that this was I wanted to only do for a living.
03. As an artist, do you ever had that moments in your life when you wanted to quit doing what you're doing? What situations or thoughts affected?
- Alex GO: Not really. Even with everything that's happened with the music industry, illegal downloads, streaming, I still get enthusiastic about making new music and discovering new sounds.
04. When you've truly realized that you've made it and finally come to success as an artist?
- Alex GO:
Hard to say because every time I travel to DJ somewhere around the world, I always think to myself "what a weird job I have"! haha
05. By this day you're still an active artist, continuing to pursue with your way as a musician, evolving your label. What are the things that helping along the way of an artist to stay away from 'fame befuddling'?
- Alex GO: Getting turned on to new music or rediscovering older music that influences my new productions. I am always learning and trying new things.
06. Name 3 artists or bands that dramatically influenced on your creativity? How did you met with their works?
- Alex GO: Norman Cook aka Fatboy Slim was a big early influence as was The Wiseguys on Wall Of Sound. I would say my friends Fort Knox Five too where big on making my sound more fully realized. We met in the early days on 18th Street Lounge Music when they were called Thunderball. We remained tight ever since.
07. Throughout musical career, you often acted as the soundtracks writer, doing your best for various major film projects. Who, in your opinion, was jointly to work best with? Do you remember anything special from that work period?
- Alex GO: A lot of that music is usually something that's licensed from an already released song that a movie or commercial want's to use. I would say that a remix I did for Quincy Jones from some old TV soundtracks he did in the 70's was a lot of fun to work on.
08. Probably it's that question from the frequently asked ones, but… where do you get the inspiration for your works?
- Alex GO: From everything in life be it something I heard or read or saw. All of my songs are like little movie soundtracks so I usually have a story in my head for each one.
09. What can you say about your «Insect Queen Music» label? Can you go into some details about how the work with the label goes nowadays, what are the aims and how do you see it's growth?
- Alex GO: I created Insect Queen Music initially for my side project called Quentin Quatro but also for a home for my older catalogue just in case I ever got control of it, which I did. It's still very new so for now I think it's just a home for my own productions. But who knows…maybe I will release music from some other artists in the future.
10. What are your personal aims in the current society status, in the culture, where intelligent and thoughtful music caves in before EDM stuff?
- Alex GO: I just want to keep making my fun little albums and singles for people to enjoy and escape with.
11. Some fans questions: as you already know our label residents works from Under Influence and Rory Hoy, what can you say about their works mood overall? What pieces of their works you can emphasize on and why? And finally, will it be a good idea to make a collab with both of them? Please do not hesitate to give strong criticism and notice any moments from the professional's view.
- Alex GO: I did a remix for Rory Hoy and Kitten And The Hip (Ashley Slater's project) this year which was a lot of fun to work on. Cool sounds and vibes from them. Collaborating is always cool. I would just say that for future producers that they should have fun with what they do, try to be original and always be curious and creative.
12. One more: what's on your 'daily tracklist', or, let's say, 'playing on repeat' in your player? Favorite one tracks or artists from other music genres?
- Alex GO: Hmmm right now? I like the new Tiger And Woods album, the new A Tribe Called Quest album is wicked, the new album from UK psychedelic band Toy is good. I've been listening a lot to my new spacey ambient side project called Pretty Pretty Pegasus which is coming out next year!
13. And the last one… True Big Beat/Funk sill alive? Will be thoose genres at the top again? What do you thinks about all of that?
- Alex GO: I hope so. I always have a nice big beat funky influenced track on my albums. I never get tired of that sound! It's the perfect party soundtrack!