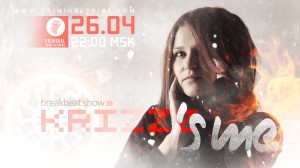 26.04.2017 2017 Big_Beat Breakbeat CRIMINALTRIBERADIO CRIMINALTRIBERECORDS Krizzz
Today, 22:00 [MSK]/21:00 [CET] /8:00 pm [UK] on the waves of CriminalTribeRadio NEW Breakbeat BigBeat radio-show Krizzz is Me! Exclusive materials and selected #oldschool sound are waiting for you, also fresh news and interesting facts from the history of style! In RUS language. Connect!
All this stuff under the hot sauce of steady beats and comments by resident of CTR — Kristina Krizzz.